Idea & Concept
To announce the newest MV Tuong Tu (27/11/2020), rapper/singer Tao had reached out to Marvy Co. for using the AR technology on the single's postcard as an invitation for all guests and fans when releasing the MV. With this postcard, Tao wished to convey to the music-loving audience a part of the complex colour and emotion space that the artist himself feels. Each image used has a dreamy, fuzzy feeling like the reality that "Tuong Tu" brings.
3D Model design
The model is designed by Marvy Co.'s 3D artist on WebAR, ensuring the most realistic and vivid image quality, but still optimized performance. Beside the wish to convey messages of Tao, each image used also carried the purpose of attracting attention, evoking a sense of curiosity in the audience.
Sound Effect
This is the most important part of the project as Marvy Co.'s team must ensure the images to best match the artistic music of Tao. Accordingly, when viewers scan the postcard, they can see that the image and sound are perfectly blended in each other, evoking emotions.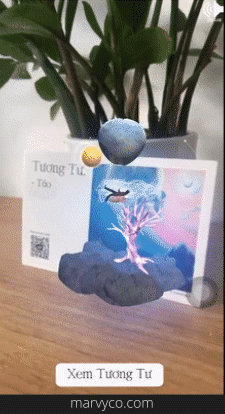 AR Development
Marvy team used AR Image Target to deliver the content.
- AR Image Target is an outstanding AR format, which can bring every print to life.
- AR Image Target can be integrated into printed publications such as: business cards, magazines, posters, flyers, banners, product's packaging… to implement marketing strategies depending on the business's purpose.
- Marvy used WebAR for developing, which is suitable for all mobile devices used to scan the postcard. The 3D models are optimizely programming, ensuring each image and sound is delivered as sharp and clear as possible.
- The users do not need to download any app to experience, just scan the QR code on the postcard by any smartphone, and click on the link to the website and watch the content.